Female athletes, renowned for their physical abilities and elite performances, show a different side of themselves on the red carpet. None of this diminishes one iota from their achievements on the field or in the gymnasium, but rather, allows them to celebrate their fit physiques while giving fans an opportunity to get to know them during their off time. Take a look at the women at the top of their game as they take a break from training and competing to just have some fun.
Paige Spiranac (Golf)
Not only is Paige Spiranac known for being a professional golfer, but she is also known by most for her interesting fashion choices and trendy dresses that she wears at occasions such as these.
This dress that she is wearing here is indeed quite different than the casual old get up you might see her wearing on the golf course. In this marine colored silk dress, she looks happy, healthy and comfortable – like any athlete should.
Nastia Liukin (Gymnastics)
Here is another gymnast who is a very popular one among the masses. This is because Nastia Liukin has been around in the sports scene for a very long time.
For instance, she was the individual all around winner of the gold medal in the 2008 Olympics, and that's just the tip of the iceberg. When she showed up the 2014 ESPYs where this semi-revealing white top, along with a tight leather black skirt, people may have wanted to talk to her for reasons other than gymnastics.
Eugenie Bouchard (Tennis)
A knock-out both on and off the field, Canadian tennis player Eugenie Bouchard managed to be look approachable and stunning at the 2015 New York City Tennis Gala, when she wore this classy black dress with lace embellishments and matching, thick-strapped heels.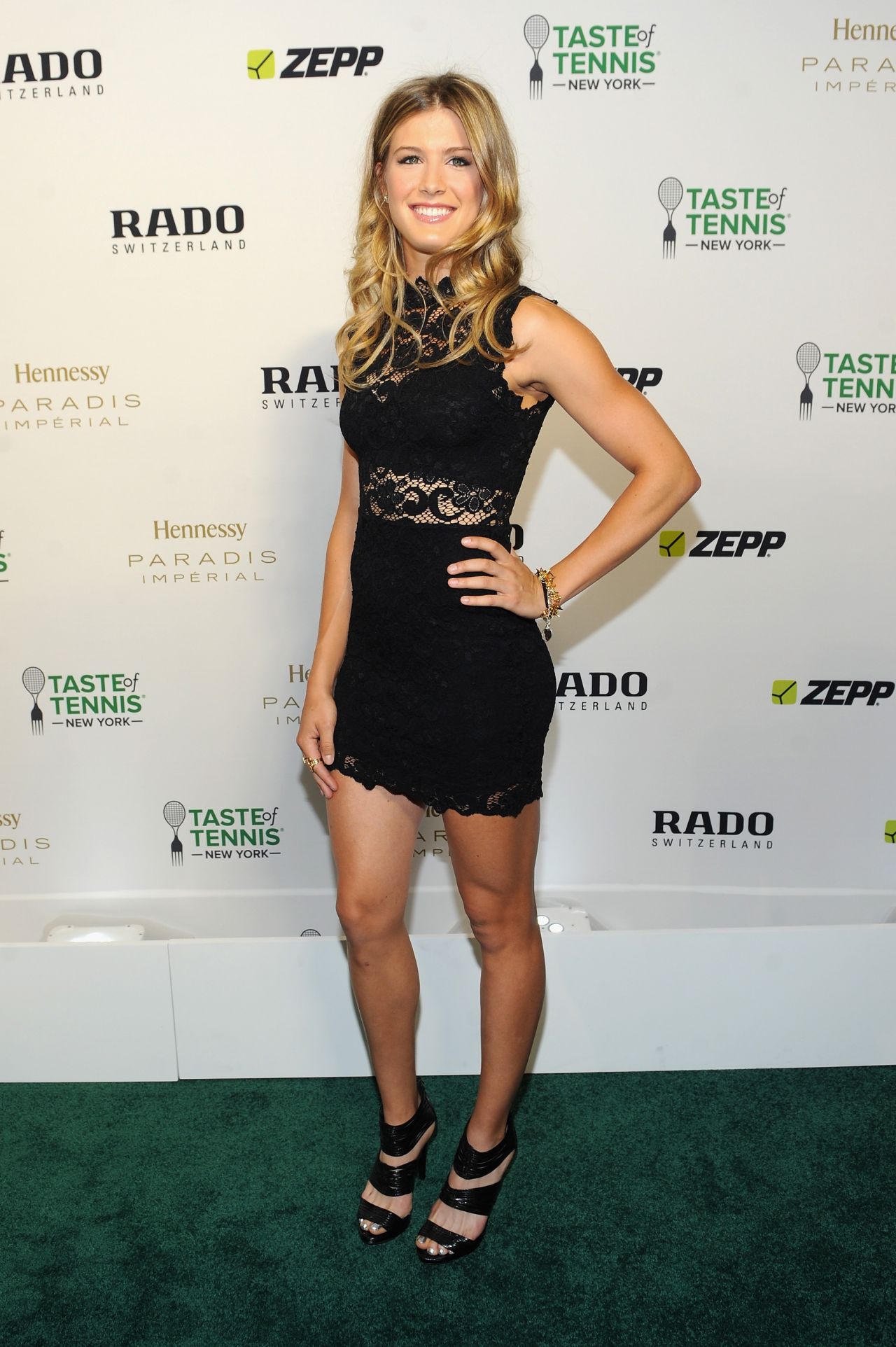 With her golden hair and beaming smile, we're certain there were many men that night who started brushing up on their tennis lingo the moment she walked into the room, just to be able to talk to her.
Jennie Finch (Softball)
From La Mirada, California, Jennie Finch is a well known softball player, and for good reason.
She has appeared in two All Star games, and has helped Team USA win a medal at the Olympics. But when she shows up on the red carpet, that's when everything changes. That's when people forget that she ever even picked up a bat. Just check out this picture of her in this ice blue dress – is she a stunner or what?
Caroline Wozniacki (Tennis)
This Danish tennis player, Caroline Wozniacki, is currently ranked number one on the WTA Tour, and even held this ranking for 67 weeks straight between 2010 and 2012.
And for this reason, she is a welcomed guest at any ESPYs event such as this one. But how about that dress, eh? We're not quite sure what to call it – a high slit or an upside-down V neck. Hmmm, can we patent that? Ah who cares, she looks great in it anyway.
Anastasia Yankova (Mixed Martial Arts)
Some athletes, such as ice skaters, are graceful. And some athletes, such as mixed martial arts fighter Anastasia Yankova, are the furthest thing from it.
Okay, maybe that's a bit of an exaggeration, but they are hardcore tough chicks who really don't mess around. Especially not when it comes to red carpet. While you may not want to fight her in the ring, you may change your mind about being in a ring with her when you take a look at this picture of her wearing this short black dress.
Anastasia Ashley (Surfing)
Anyone who's ever attempted surfing knows it is absolutely no cakewalk, and this makes Anastasia Ashley, a world-renowned professional surfer, seem all the more impressive.
In addition to her surfing, she has also done plenty of work as a model, and when you see her in this picture, you can understand why. To this ESPYs event, Ashley wore a neon yellow dress with a black stripe along the bust and back, with the overall effect of the color and her beauty requiring most people to put on their sunglasses.
Barbara Blank – First outfit (Wrestling)
So it's possible that many of you know this young woman by the name of Barbara Blank, who is also known by the stage alias Kelly Kelly.
The fact is, she is not only a professional wrestler, but also a model, a reality television star too. And it's no surprise way – America absolutely loves her! In this picture, she makes it clear to us all why she is appealing. In this satin pearl white mini dress, with golden streaks embellishing the ensemble, she gives a look of complete confidence.
Urszula Radwańska (Tennis)
Now isn't she just adorable? Such a nice smile. Urszula Radwanska, we simply love her, and we love her nice white dress too.
This Polish professional tennis player deserves a little bit of a break from her grueling schedule of training and competitions. And even though she isn't in her comfort zone, the tennis court, she by no means looks out of place on the red carpet – on the contrary, she looks absolutely beautiful.
Lolo Jones (Bobsled)
Another powerhouse winter sports olympian, bobsledder Lolo Jones is one of the best when it comes to competing on the ice.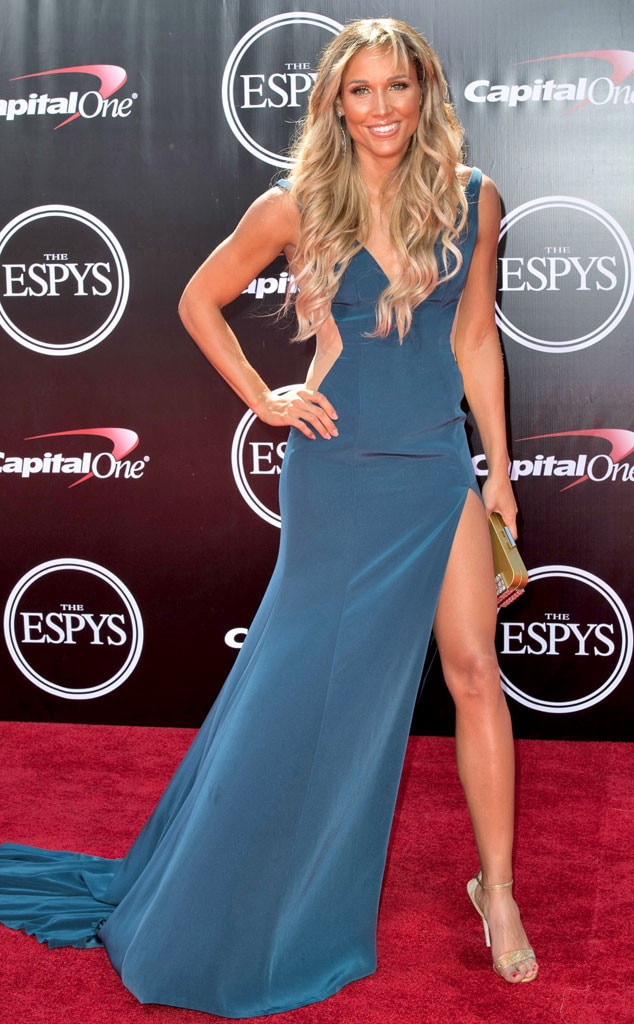 And like many of her winter sports contemporaries, she likes to take advantage of the time she spends when not on the ice by enjoying the warm weather. At this ESPYs event, Jones wants us to see she cuts a mean figure outside Team USA uniform, as well, in this cutout, floor-length, steel blue dress with a sky-high slit. She's definitely in it to win it!
Laila Ali (Boxing)
We couldn't go without mentioning Laila Ali, the former boxer and daughter to legendary boxer Muhammad Ali with his third wife, Veronica Porché Ali.
Laila retired in 2007 undefeated, after having won several titles during her career – and is now pursuing a culinary career, as she recently released her own cookbook. Laila looks gorgeous in this strappy mauve dress, which she paired with golden sandals and clutch, proving she knows how to stun not only her competitors, but also on the red carpet.
Silje Norendal (Snowboarding)
No list of female super athletes would be complete without this woman right here – winter sports olympian Silje Norendal.
This Norwegian snowboarder competes in halfpipe, slopestyle, and of course boardercross. In the 2013 Winter X Games, she won the gold medal for the slopestyle competition, but enough about that. If this picture is any indication, Silje is a threat on all fronts, because she dominates on the cold ice and snow, and on the red carpet as well.
Camila Giorgi (Tennis)
Don't you just love Italians? We certainly do – we love their interesting accents, their pizza, and last but not least – their amazing women athletes.
Italian tennis player Camila Giorgi allowed us to see what she likes to wear when not competing, and we certainly like her choice. We especially love the flirty design on her lingerie-inspired dress – when you gaze upon the black, white, and 50 shades of gray of the dress, you have no choice but to agree that it is simply a work of art.
Maria Sharapova (Tennis)
Ah, Maria Sharapova. This woman is probably one of the most well known female tennis players of all time.
One of the reasons is the fact that she's insanely talented, with accolades to prove it (she has competed on the WTA Tour for nearly two decades). Another reason is that she is simply smoking – and when she wears dresses like this barely-there black mini dress with a frilly skirt and gold embellishments, which she showed up in at the 2011 ESPYs – there's not much we can do but stare.
Anna Kournikova – First outfit (Tennis)
As previously mentioned, Anna Kournikova is a worldwide celebrity. And she has men all around the world wasting their wishbones on possibly meeting her one day.
And boy, does she seem to love those satin dresses – this one is even shorter than the brown one! Hide your husbands, ladies, cause this lady came dressed to impress. Anna certainly isn't messing around with this skin tight red dress. It's too bad she's already taken by singer Enrique Iglesias.
Ronda Rousey (Mixed Martial Arts / Wrestling)
Ronda Rousey is one strong woman – there are some pictures of her out there that are intimidating for even the brutish of men.
And yet – when the wrestler and MMA fighter showed up at an event wearing this gold and black striped, high slit, floor-length, gold-patterned low cut dress, we couldn't help but allow our jaws to drop. The way she appears in this picture, you would never even know that she was an MMA fighter – she looks more like a model in a tiger's outfit, to be honest.
Carmen Jorda (Racing)
Now this one is interesting. Carmen Jorda, the spanish race car driver slowed her gears down a tad as she allowed herself to dress up nice for an evening.
The dress has an interesting design, with colors that are half beige, half gold and silver glittering artwork. The girl simply looks stunning, and it makes us wish that she could have driven a little faster to the event, so we could have seen her sooner.
Paula Creamer (Golf)
Paula Creamer is known best for her talent on the golf course, but she has also the caught the eye of many due to her charming looks as well.
And when she attended the HSBC Women's Championship event wearing this asymmetrical, jet-black mini dress paired with some serious bling, the cameras at the event simply could not contain themselves. It's always nice when we see that professional athletes have a more formal yet fun side, and that they take a break from practicing to allow themselves to dress up nice.
Ellen Hoog (Field Hockey)
Alright, so what we've got ourselves here is a woman who doesn't compete in any of the conventional sports you know – in fact, she's a Dutch field hockey player.
But make no mistake, she's a fully fledged competitive athlete, and she's taking names. Her name is Ellen Hoog, and as you can see, she's the picture of effortless elegance, in this ice-blue patterned number with cascading layers of sheer paneling. While her choice of dress shows she's a girl with class, her eyes have already cast a dreamlike spell on us.
Barbara Blank – Second outfit (Wrestling)
Barbara Blank, AKA Kelly Kelly, actually made her WWE debut on television in 2006 – but people have by no means forgotten about her.
So we thought that you deserved another picture of this fine young lady – and considering she dresses to kill quite often, we believe it is more than necessary. At a 2017 Pre-Oscar Party, in this light grey tight satin dress that is slightly revealing, combined with her mastered "no smile" look – well, the picture speaks for itself.
Danica Patrick (Racing)
Moving on to Danica Patrick – one of the big guns. Anyone who is semi-familiar with Danica's career knows she's one of the best female race car drivers of all time.
But Danica is also known for her impressive fashion choices such as this one. In this picture, she is wearing a ruby red satin dress that goes down to her calves, with a black lace trim along the hemline, and a defiant look that shows she doesn't stop for any red light.
Torrie Wilson (Wrestling)
As long as we're talking about wrestlers, we figure we might as well keep it coming. Wrestling seems to breed the strongest, and most beautiful women imaginable.
Torrie Wilson is one of them – and at the 2009 Fox Reality Channel Really Awards, she solidifies this fact. In this picture, she graces the red carpet in a mini dress with a cacophony of sequins that have many different shades of purple. Her purple dress, with her ruby red slippers (high heels), and blonde hair, make a combined dazzling event.
Gabby Douglas (Artistic Gymnastics)
Artistic gymnast Gabby Douglas hasn't only won three Olympic gold medals, but also starred in her own reality show, had a Lifetime biopic made after her life story, and has even written a book about her life experiences.
The athlete has recently alleged to be one of the girls who was intimately abused by Dr. Larry Nassar, former physician of the USA Gymnastics team. The Olympic medalist wore this sparkly black crop top and skirt combo to Kids' Choice Sports, and we give her a perfect 10 for execution.
Heather Watson (Tennis)
Some of the outfits we've seen here are quite high brow, while some were more risqué.
This outfit, worn by the lovely British tennis player Heather Watson, looks like something you might wear if you were to a Halloween party dressed as a naughty lilypad. And the material? From where we're sitting, it kind of looks like rubber. We can't imagine that it's very comfortable. Nevertheless, it looks like she's pretty happy with the end result, and that's what it's all about, right?
Natalie Gulbis (Golf)
Natalie Gulbis is yet another professional golfer who is clearly a looker, and when she isn't playing on the LPGA tour, she is making sure the whole world knows she's out to have fun.
In this picture, Gulbis is apparently wearing a white skirt with a black electric cord tied around it, but what's interesting about the skirt is that when you look twice, you realize that there are optical sequences within the white design, which kind of look like crop circles on the moon. Interesting choice, Natalie. Interesting choice indeed.
Simone Biles (Gymnastics)
Simone Biles is known around the world mainly for her participation in the 2016 Rio de Janeiro Olympics, when she helped Team USA win a gold medal.
She's an artistic gymnast who has a very eclectic variety of talents, and some of them even extend beyond the world of sports. Indeed, as you can see here, Biles showed off her sense of style when she wore this pink mid-length dress at the Nickelodeon Kids' Choice Sports Awards in 2017.
Sally Fitzgibbons (Surfing)
The artists on this list include the top talents in a variety of sports, but one of our favorites out of all these different fields is surfing – and Sally Fitzgibbons is quite the talent in it – or should we say "in that ocean."
Hailing from Australia, she competes in the Association of Surfing Professionals World Tour, but when she is off duty, she allows herself to dress up for occasions such as this one, and she looks mighty good when she does.
Anna Kournikova – Second outfit (Tennis)
So this dress is a little bit different from the kind Anna usually likes to wear – the satin, tight, mini dress type of ensemble that we are normally accustomed to seeing her in.
Instead, she went for a more romantic look, with this floor length, rough silk, pea-green dress with thin gold stripes accentuating her incredible figure. We personally like it, and feel it's a nice change of pace for Kournikova – less "meet you at the club" and more "I'm dressing for a fancy event."
Alana Blanchard (Surfing)
Like her surfing contemporaries on this list, Alana Blanchard is an absolute stunner. However, we hate to inform you folks out there, but she is actually taken.
Indeed, she is dating Jack Freestone, another fellow professional surfer. We suppose certain athletes like to keep it in the family. At this event, we can see Blanchard is not only comfortable riding the ocean waves in her surfing gear, but also more than capable of wowing people on the red carpet, in a dress that's incredibly similar to that iconic Baywatch swimsuit.
Chelsea Pezzola (Golf)
Attention friends, we've got another attractive female golfer. How does one get into golfing these days? Why would you?
Oh never mind, our questions and prayers have been answered by Chelsea Pezzola, who appeared at the ESPYs wearing a creamy, curve-hugging mini dress with metallic embroidery, showing off her tan and allowing us to see how beautiful she truly is. Thanks to Pezzola, golf is now cool to watch on television, and your friends won't make fun of you. Thank you Chelsea, for revolutionizing the sport of golf.
Queen Harrison (Track and Field)
You might think that a lady as talented as Queen Harrison might use up all of her talent on the field.
We would understand your point, considering the fact that this track and field star has competed in various challenges such as hurdling, triple jump and long jump. But as you can see from this dress that she wore at this ESPYs event, she knows how to take a break, wearing a flowery skin tight mini skirt that wowed her peers.
Gina Carano (Mixed Martial Arts)
Widely considered by most for a long time to be the face of Mixed Martial Arts fighting, Gina Carano has enjoyed quite a nice amount of success in the spot.
She eventually did some modeling and even some acting, but people still remember her MMA days. In this picture, she is wearing a sky blue floor length swan dress that makes her look like a Disney princess, and not so much a vicious fighter – she certainly cleans up good.
Leryn Franco (Javelin Throw)
From the humble country of Paraguay, Leryn Franco came out onto the sports scene in the 2008 Beijing olympics, when she showed everyone her prowess in javelin throwing.
The truth is, her results weren't fantastic but she nevertheless became a star due to her astounding beauty. And in this picture you can see what we're talking about. At the 2012 India Resort Fashion Week she can be seen here wearing a glittering, golden floor length dress that shows off her curves in ways we cannot complain about.
Clair Bidez (Snowboarding)
This spunky little specimen is very talented, appearing on the 2014 Winter US Olympics as a snowboarder.
Hailing from the state of Colorado, it is no surprise that she feels comfortable on the ice. At the Sports Illustrated Swimsuit Vanity Event, she wore a mini dress in colors of shocking pink – and people were definitely shocked – but it wasn't only because of the dress. We think she looks great here, although we do hope she puts something warmer on next time she's in Colorado.
Ashley Wagner (Figure skating)
Ashley Wagner is an American figure skater who has won multiple medals in the past, including a bronze for Team USA in the 2014 Olympics.
At this Nickelodeon's Kids Choice Awards event, you can see that she wanted to get into the spirit of the event by kind of dressing like a kid. Well, that shocking pink top and flowery skirt do seem kind of adult, but the entire package is certainly packed with the fun energy of a child.
Hope Solo (Soccer)
A former American goalkeeper for Team USA, Hope Solo is one of the female soccer greats. She has won two gold medals in the Olympics, and even won the World Cup.
Therefore, we think she deserves a bit of a break, which is apparently why she decided to live it up at ESPN The Magazine's Third Annual Body Issue Party, wearing a jet black leather mini dress we're sure caused many of those in attendance decide to make it their goal to talk to her.
Candace Parker (Basketball)
Many people know that Candace Parker plays for the Los Angeles Sparks, but did you know she's also the younger sister of former NBA legend Anthony Parker?
The 32-year-old WNBA player was the first pick of the 2008 draft, and has received many accolades. In fact, she was the only woman to ever receive the Gatorade National Girls Basketball Player of the Year awards twice. But Candace proved she can also wow us outside of the basketball court, in this elegant black jumpsuit she wore to the 2017 NBA awards.
Allison Baver (Speed Skating)
It's not everyone that wakes up one morning and decides that they want to be a speed skater in the Winter Olympics, but she did it pretty well.
Allison Baver was even ranked as the number one woman speed skater in the world in 2006. At this red carpet event, she showed that is quite the force to be reckoned with in the dating field as well, wearing this X-shaped, black, white, and navy blue striped number that must have made people speed skate their way to meet her.
Hannah Teter (Snowboarding)
Hannah Teter is a gold medal winner from Vermont, and has emerged victorious in the Snowboarding World Cup six times.
She was also one of the only Winter Sports women to be chosen to model for Sports Illustrated, and we can see why. At the 2010 Do Something Awards, Teter arrived in this cute, red soft mini dress that has a golden tribal design in the top region, with a thin black belt with gold studs attached to it around the waist – the overall effect was great.
Tessa Virtue (Ice dancing)
The interesting thing about ice dancing is that while it's a form of competition with rigorous training, the ice stage itself is a place of grace and beauty.
Therefore, unlike many of our other sports – when we see Tessa Virtue in this picture looking absolutely stunning, it is not surprising, because we feel like we've seen her in this light before. Nevertheless, she definitely takes it up a notch in this classy pink dress, where she shows that it is possible to be an ice princess off the ice.
Stacy Keibler (Wrestling)
Yet another wrestler that simply refuses to quit when it comes to making men's jaws drop to the floor, is Stacy Keibler.
The truth is, she definitely doesn't look like a wrestler in this picture – wrestlers are supposed to look macho, and Keibler here looks like a supermodel (which is probably why she works as a model too). At a QVC Red Carpet Style Event, she wore a knee length, deep violet skin tight dress, with her blonde hair pulled back in a ponytail, and the effect is extraordinary.
Serena Williams (Tennis)
When you think of American female tennis players, it's almost impossible not to think of Serena Williams.
This lady has gone down in legend as one of the greatest of all time, and she was even ranked to be number one in singles eight separate years by the Women's Tennis Association. Of course, she's also known for her outstanding fashion sense, wearing this green satin leopard design dress at a pre-ESPYs event in Los Angeles.
Shawn Johnson (Gymnastics)
There are many famous female gymnasts out there, and Shawn Johnson is a fan favorite.
In addition to the multiple medals she has won for Team USA in the Olympics, she simply has this bright energy about her that people seem to feed off of. This tantalizing exuberance is also present on red carpet events such as the one here, when she appeared at the Premiere for the Dreamworks sci-fi film Transformers, in a radiant mini dress with a hot pink top with gold straps around her neck.
Erica Hosseini (Surfing)
When professional surfer Erica Hosseini showed up at Billabong's 6th Annual Design for Humanity Event, looking the way she looks in this picture, you can't imagine that it would've been hard for her to get someone's number.
Surfing is a culture that is well versed in swimsuits, beach fun in the sun, and just an overall chill vibe. This outfit here, a skin tight mini skirt, with a multi colored thin leopard top, while it is fancy, it also has a certain laid back, beach-like quality to it.
Nadia Comaneci (Gymnastics)
Although we've mainly discussed contemporary female athletes, we decided we have to make an exception for Nadia Comaneci.
She is simply a legend in the world of gymnastics – a five-time gold medal winner and the first gymnast ever to receive a perfect ten at the 1976 Olympic Games, a feat she repeated six more times in that same Olympics over 40 years ago. No list such as this would be complete without her, and in this picture her face shines bright for she knows that her legacy is untouchable.
Jessie Graff (Stunt woman)
c is surely a woman of many talents. Originally a world-class martial artist who mastered in Taekwondo, Kung-fu and several other forms of martial arts, she soon began working as a stunt woman in the film industry.
Graff became known to the public eye due to her fantastic athletic achievements on several episodes of the obstacle course show American Ninja Warrior, and is now appearing as a professional stunt woman in the CBS hit show Supergirl.
McKayla Maroney (Gymnastics)
Miss Mckayla Maroney, the former American gymnast who won multiple gold medals, is at it again, with her kind of intriguing choices of wardrobe.
Like many of the athletes we've mentioned, she's sporting a very cute outfit, which works seamlessly with her long and messy pigtails. In fact, she pulls it off so well, it doesn't even look like she's trying – there's something about the way gymnasts hold themselves that makes them look so cool and put together whenever they dress up for a red (or purple) carpet event.
Aly Raisman (Gymnastics)
This American gymnast is not only a two-time Olympian, but helped Team USA win gold medal on both occasions, snagging an individual gold medal for herself, too.
But when she's done impressing you on the competitive stage, don't look the other way, because she knows how to dress up at fancy events as well. She's gorgeous in this futuristic, scale-ane-sheer red dress at the Sports Illustrated Sportsperson of the Year event. The entire look is a winner, but it's the multi-colored heels that really shoots it out of the park.
Lindsey Vonn – First outfit (Alpine Ski Racing)
We're back with Miss Lindsey Vonn, because as we mentioned before, she likes to take advantage of the warm weather.
And it is very fitting in this picture, considering Vonn is at an event for the Los Angeles Dodgers, a Major League Baseball team. Los Angeles is a sunny place, and Vonn wanted to make sure that her long legs received the tan that they deserve. But we love that she has team spirit – the color of her dress really fits in with the Dodgers' slogan of "think blue."
Anna Kournikova – Third outfit (Tennis)
As long as we're talking about tennis players, there is one lady we have no choice but to mention.
Of course we are talking about Anna Kournikova – she is one of those athletes so famous that even people that don't watch tennis would know about her. Originally from Russia, she has got people in a whirlwind not just from her competitive prowess, but from her engaging dress choices. You can't help but smile when you see her here in this satin, skin-tight brown bandage dress.
Lindsey Vonn – Second outfit (Alpine Ski Racing)
Lindsey Vonn is a well known alpine ski racer, and she has played for Team USA in the Winter Sports Olympics numerous times, and is a winner of a handful of gold medals.
Recently she appeared at the 2015 ESPYs wearing an orange top and a black skirt that was slightly more revealing than her usual attire. It seems that Vonn wanted to take advantage of her time off the ice, considering if she had worn this getup out there, she would've definitely caught a cold.
Miesha Tate (Mixed Martial Arts)
As mentioned previously, we've got the competitors, and then we've got the fighters. Miesha Tate, a U.S. native mixed martial arts fighter certainly is not one you'd want to mess with.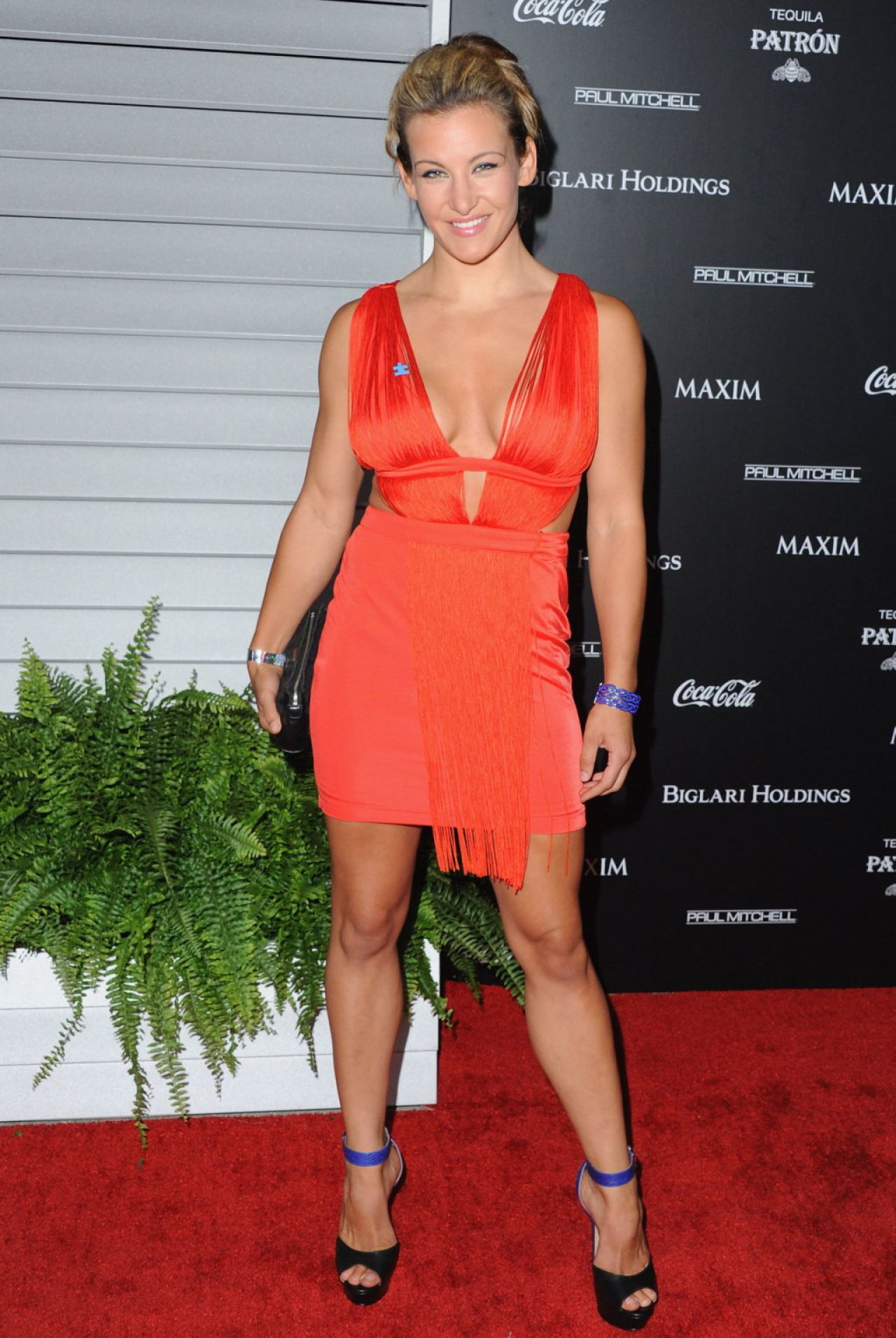 She definitely has a warm smile, but in this coral red number, with its stringy top tucked into the skirt and going down below the hemline, there's just a whole lot going on here. Regardless, we hope she had a great time and hope she's just as fiery during her next match.
Alex Morgan (Soccer)
There are plenty of girls, particularly in the world of sports, who hate it when people try to put them on a pedestal, and are more than happy to get down and dirty with the guys.
Alex Morgan seems like just this type. She's a Team USA soccer player, and is more like the spunky, cool girl next door you used to have a huge crush on. Just look at her in this picture – she simply exudes chillness – who wouldn't want to play foosball against her?